LEGACY CLUB SERVICES

Legacy Club Services (LCS) is a service provider for participating Legacy Clubs that care for the families of veterans who gave their lives or health for the country. LCS enables participating Legacy Clubs to continue to provide a quality level of service to their beneficiaries by 'freeing up' the time of Legatees to fulfil their obligations under their charter.

This objective is achieved by centralising governance and compliance obligations, management of financial resources and accounts, reducing overheads and duplication of processes, combining efforts to advocate on behalf of beneficiaries and compete more effectively for funding from the public. LCS's value proposition is that as a service provider it allows participating Legacy Clubs to have a significant combined social impact on Legacy beneficiaries (and the local community); provides the necessary support and resources to empower Legatees; maintains the autonomy and identity of local Legacy Clubs within their communities; and demonstrates its appeal to other Legacy organisations in Australia.

Participating Club have wound up their respective legal entities and transferred their assets and liabilities to LCS. The Legatees of those Clubs are members and shareholders of LCS.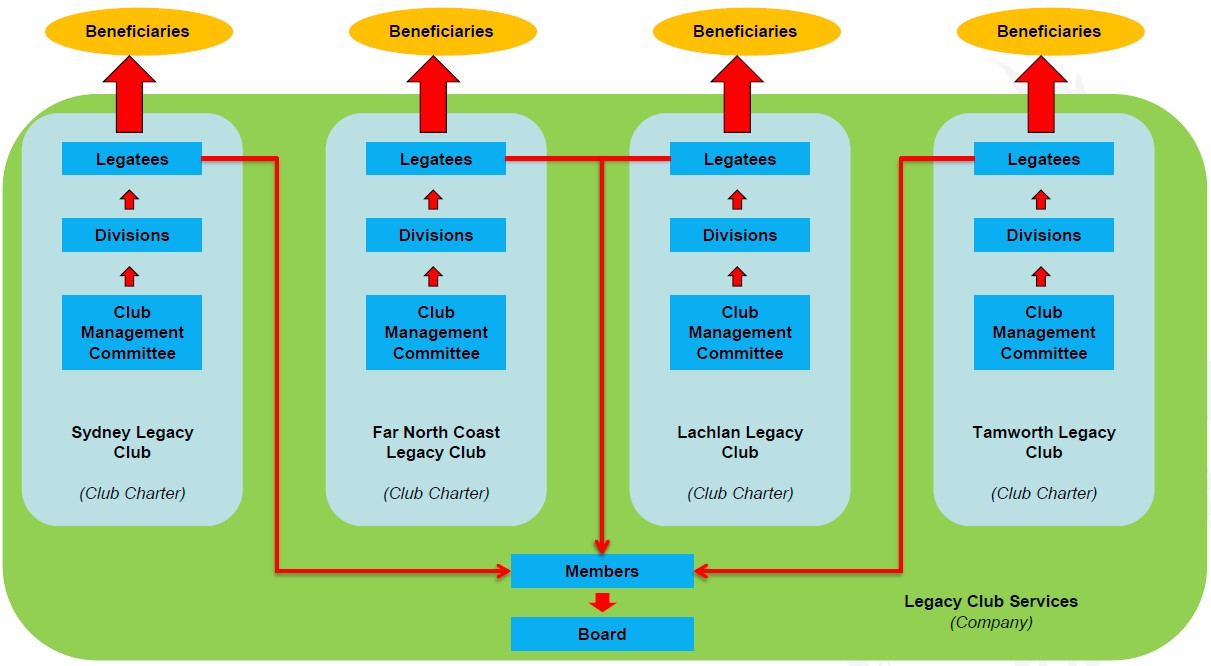 SERVICES PROVIDED BY LCS
Service Delivery is relevant, sustainable and responsive to meet the needs of participating Legacy Clubs and beneficiaries' needs.
Effective leadership employs dynamic and flexible governance, planning and reporting mechanisms to support LCS operations.
Recruit, train, retain and enable a professional staff and volunteers that are guided by the Legacy culture of service and excellence.
Ensure enabling functions and organisational capability support LCS operations and are sustained through effective financial management and the application of relevant technologies.
Ensure marketing, fundraising and raised community awareness generate sufficient funds from a variety of revenue streams for LCS (in time) to be self-generating in order to support participating club operations.
Ensure that communication processes allow effective engagement with relevant stakeholders and increase awareness of what the Legacy Clubs do in the community.
The following Legacy Clubs are serviced by Legacy Club Services (LCS)
Far North Coast Legacy
Lachlan Legacy
Newcastle Legacy
Sydney Legacy
Tamworth Legacy
Legacy Club Services also provides some technical support for the following non-LCS Clubs:
Adelaide Legacy
Mornington Peninsula Legacy
Townsville Legacy
Wagga Wagga Legacy
WA Legacy